By Jeff Blakley
Historians who have written about the Town of Detroit, the name of which was changed to Florida City in 1914, have noted that it was a planned community created by the Miami Land & Development Company. However, not much information has ever been provided by those historians about the company behind the creation of the town. I'm taking this opportunity to provide some background.
The Miami Land & Development Company was one of many companies that the Tatum brothers established in Miami. There were four Tatum brothers: Smiley Mosteller (S.M. – 1870-1935), Johnson Reid (J.R. – 1866-1938), Bethel Blanton (B.B. – 1864-1943), and Judson H. (J. H. – 1859-1923). Their father was the Rev. Aaron Sheriff Tatum (1834-1915) and Jane E. Johnson (1831-1909). Aaron and Jane were from North Carolina but moved to Dade County, Georgia as young adults. The family lived there until 1884, when they moved to Orlando, Florida. Jane Tatum died in Orlando in 1907 and Aaron in 1915.
Aaron and Jane had seven children – six sons and one daughter. The four sons noted above stayed in Florida and engaged in various lines of business. B.B. moved with his family to Orlando in 1884 and then, with one of his brothers, operated a sawmill in Bartow. In 1887, he started a career in the newspaper business when he purchased the Polk County Florida Informant. After owning a number of newspapers in Florida and one in Rome, Georgia, B.B. came to Miami where he bought the Miami Metropolis on December 29, 1899. The Miami Metropolis was established by Henry Flagler shortly after his railroad reached Miami in 1896. It was a "Flagler paper" under B.B.'s ownership until he brought Simpson Bobo Dean on board in 1905. B.B. sold the paper to A. J. Bendle on April 20, 1909 and joined his brothers, S.M. and J.H., in the real estate business. S. Bobo Dean and Flagler had a contentious relationship, but that is a story for another time. If you are interested in that story, Howard Kleinberg's article, which I linked to, is a good place to start. S.M. completed high school and then went to what is now Georgia Tech in Athens, GA for a year, studying chemistry. He then joined his family in Bartow, where he worked as an analytical chemist until fumes from his work damaged his eyesight. He moved to Tampa and engaged in the real estate business until he moved to Miami in 1902, joining forces with his brother, J. H., who was already there. J.R. moved to Bartow in 1887 and then to Tampa in 1892, where he stayed until 1911, when he moved to Miami. So by 1911, all four Tatum brothers were in Miami, busily selling land to the flood of newcomers arriving daily.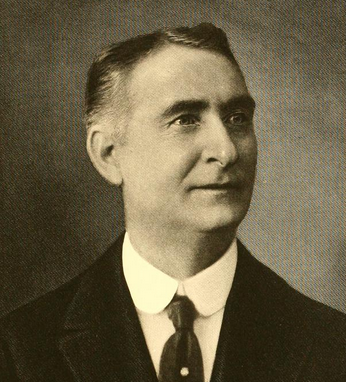 Smiley Mosteller Tatum
The Tatums were sharp businessmen and created a number of companies, all of them separate corporate entities but subsidiaries of the Tatum Brothers Real Estate & Investment Company, headed by J. R. They were: the Miami Land & Development Company, Lawrence Estate Land Company, Tatum Land Company, Tatum Ocean Park Company, Miami Traction Company, Florida Title Company and the Miami Abstract Company. In addition, S.M. Tatum was the vice-president of Belcher Asphalt Paving Company (Samuel A. Belcher, another interesting story), director of the Seminole Fruit and Land Company and vice-president of the Art Stone Construction Company.
All of the Tatum brothers were active in civic affairs and hob-nobbed with the rich and famous. They were members of the Miami Country Club, the Miami Motor Club, the Angler's Club, the Chamber of Commerce and the Miami Realty Board. They were also members of fraternal organizations like the Elks, the Knights of Pythias and the Odd Fellows. In short, they were connected.
Johnson Reid Tatum
To the best of my knowledge, no one has unraveled the story of how the Miami Land & Development Company acquired its lands in Detroit. Perhaps I'll tackle that one day.
Russell Fleming Tatum, the Town of Homestead's first mayor, was distantly related (he was a third cousin, once removed) to these four Tatum brothers. Russell was a lawyer and a real estate salesman who had an office on Railroad Avenue next to the Homestead Garage.
Russell F. Tatum's Real Estate Office
Courtesy of the Florida Pioneer Museum
The Miami Land & Development Company was active all over Dade and Monroe Counties, so it should come as no surprise that in the Town of Homestead, the plat for Tatum's Colored Town Addition (book 4, page 131) was platted in September of 1914 and executed by J. H. Tatum on June 18, 1918. The plat for Tatum's Second Addition (book 7, page 153) was executed by B. B. Tatum on January 12, 1923. The plat of Tatum's Addition (book 1, page 128), dated May 6, 1912, encompassed a small area northwest of the intersection of what would become Krome Avenue and Lucy Street. It was surveyed by Roy O. Marsh of Detroit, but does not show which Tatum ordered the plat to be made. It does show, however, that Krome Avenue in that part of Homestead existed at that time – it is labeled as "County Rock Road." Tatum's Ridgedale Addition (book 4, page 95), dated June 26, 1917, was platted by Russell Tatum and his wife, Jessie. Russell Tatum shared his office with his distant relatives. All of them were participants in the enormous speculative land rush that was South Florida in the opening decades of the 20th century.
The sources for this article were family trees on Ancestry.com, the online database of plats available from the Miami-Dade County Recorder's Office, the article by Howard Kleinberg in Tequesta that I linked to and, most importantly, E.V. Blackburn's book, Miami and Dade County, Florida: Its Settlement, Progress and Achievement, Washington, D.C., 1923, Victor Rainbolt.