by Jeff Blakley
This postcard, owned by the Florida Pioneer Museum, depicts the Walton Home in Homestead, Florida:
Courtesy of the Florida Pioneer Museum
Like many others, I have always known the Walton House to be the one marked by this historic plaque just north of Biscayne Drive on Redland Road:
Courtesy of Jeff Blakley
The house pictured on the postcard is at the northeast corner of Biscayne and Redland, not further north. This is the house as it appeared shortly before Hurricane Irma struck the Homestead area on September 11, 2017:
Courtesy of Jeff Blakley
In this post, I will attempt to set the historical record straight and provide the history of this house.
William Karl Walton was born on May 11, 1881 in Cameron, West Virginia, the son of Milton Anderson and Mary Amelia Moore Walton.1 2 He is buried in Graceland Memorial Park. His father was a produce dealer who could afford to send his son to the University of West Virginia in Morgantown.3 There, he majored in civil engineering and was employed in that capacity by a railroad and a "big coal mining corporation" for several years. Restless, he moved to Kansas City, Missouri and engaged in the mercantile business but that didn't last long, either. He moved to Chicago, where he was employed for six years as a fire insurance inspector for the Chicago Underwriters Co.4 On October 5, 1910, he married Martha G. Filloon in Chicago. Her father, George W., claimed to be a physician. He had graduated from the Metropolitan Medical College, "a fraudulent Chicago concern that sold diplomas to anybody that would pay the price."5 He was the president and general manager of The Oxybon Company, which marketed a machine called the Oxybon that allegedly cured all manner of ailments. It is a testimony to the gullibility of the general public that he was able to become quite wealthy by engaging in this business, despite the legal suits filed against him.6
He and his wife Ida sent their only child, Martha Gladys, to St. Katharine's Hall, a college preparatory school in Davenport, Iowa that was associated with the Episcopal Church. Born in 1886, Gladys probably graduated in 19057 and then went to live with her parents in Chicago.
The real estate boom in the Miami area was nationally known and W. K. Walton no doubt read about it in the Chicago papers. The couple came to Miami shortly after their marriage and may have purchased 10 acres in the vicinity of N.W. 30th Avenue and 68th Street. Karl sold that property to Louis G. Hagan in August of 1914,8 after he had claimed the relinquishment of a homestead claim northwest of Homestead on June 27, 1912.9 That property had originally been claimed by Charles B. Firman in July of 1907 so there may have been a small house on the property when Walton picked up the relinquishment from Otho Heath. Walton sold some of his acreage not long after he paid cash for it on December 25, 1913. The name of the property was Rimrock, according to a mention of it in the January 26, 1923 issue of The Homestead Enterprise. Apparently, the Waltons, who were upper middle-class, were not happy being so far out in the country – way out between 212 and 217 Avenues and 280 and 288 Streets. Thus, Karl purchased land closer to Homestead from Bird Fitzpatrick, at the northeast corner of Biscayne Drive and Redland Road. Fitzpatrick had claimed that property, part of the northwest quarter of 1-57-38, as his homestead on June 11, 1906 and proved it up on February 27, 1912.
Karl wasted no time in building a new house, which he named "Waltonhurst," for himself and his new bride on the property. It was first mentioned in the South Florida Banner on March 7, 1913, when Mrs. Walton "entertained charmingly, the Pioneer Guild and a few friends…" The Waltons were welcomed into the social scene in early Homestead and they were mentioned as early as August of 1913, when they appeared in a farce comedy in three acts put on by the Talalaka Dramatic Club, which performed in Sistrunk's Hall, located just west of the Bank of Homestead.10 The cast of the production, A Busy Liar, given on August 29th, included H. R. Pridgen, Mr. and Mrs. Tom Brooker, Lily Lawrence Bow and son Mac, Mr. and Mrs. Walton, Maggie Nixon and Harvey Fitzpatrick. The play was directed by Mrs. Walton, who "studied under experienced dramatists in Chicago."11 In November of 1915, the Waltons drove to Chicago and back, but Karl said he would not attempt the trip again "until the Dixie Highway is in better shape."12 Further evidence for a vibrant upper middle-class in the Homestead and Florida City area at this time is proven by the fact that Gladys Walton began giving ballroom dancing lessons every Tuesday evening at the Florida City Pavilion in July of 1916.13
While Gladys was caught up in the social scene, Karl was busy establishing groves and making a name for himself in the avocado nursery business. On September 12, 1918, he registered for the draft in Homestead and stated that Gladys F. Walton was his wife. But the marriage must have been troubled, for on January 17, 1919, Martha divorced Karl.14 On November 25, 1919, Karl married Miss Margie M. Smith, of North Adams, Massachusetts, in a quiet ceremony in West Palm Beach.15 In December of 1918, The Miami Metropolis noted that Gladys was with the Florida Conservatory of Music and Art at Biscayne Drive and Collins Avenue in Miami.16 She subsequently established a career as a well-known teacher of ballroom dancing to the elite in Miami.
Back in Homestead, Karl was busy with his grove business, having sold his house after his divorce to Lindley Hoffman Livingston,17 18 19 the brother of Anthony Rutgers Livingston, a prominent civil engineer in Homestead who owned the Homestead Engineering Co. A. R. Livingston was the Kleagle of Klan No. 26, Homestead's chapter of the KKK.20
This photograph of Waltonhurst, then known as "L. H. Livingston's Residence," was taken by an unknown photographer, probably in 1920. It is owned by the Florida Historical Society.
The photograph was subsequently published in The Homestead Enterprise on March 30, 1923: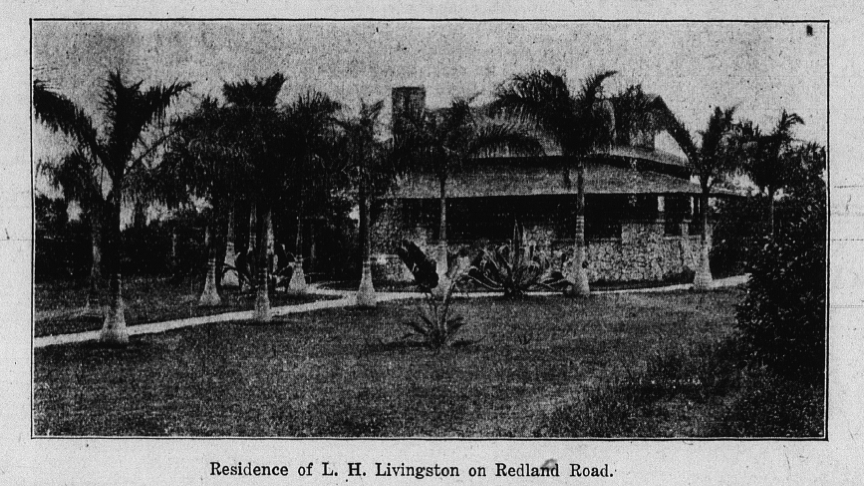 Construction on the house now known as the Walton House started in early May, 1920 for a "California bungalow to be erected by W. K. Walton on his property on the Redland road. M. P. Wallam and A. C. Smith have been given the contract for the work." The plans called for nine rooms on the first floor and "an attic of three rooms" and the cost was estimated at $7,000,21 which in 2017 dollars is about $90,000. The Waltons moved into their new home in mid-August of 1920.22
Melvin P. Wollam's son, James, opened the Wollam & Kendrick Grocery store on Krome Avenue in Homestead after his father's death on April 1, 1933. Alec C. Smith was a carpenter who worked for Melvin, a well-known contractor in Homestead who built the Homestead Light and Waterworks plant on N. Flagler, the Redland High School gymnasium and many other fine residences in the Homestead area.
The second Walton house, just north of Waltonhurst
Courtesy of the Florida Pioneer Museum
Lindley H. Livingston died on May 4, 1924, due to complications following surgery for appendicitis.23 A member of St. John's Episcopal Church, he was buried at the Palms Cemetery on May 7. The pallbearers were William J. Clark, a civil engineer, contractor and step-father of Dick Huff, who later owned Dick's Drive-In, B. M. Bower,24 William K. Walton, Lawrence W. Taylor, secretary of Homestead's chapter of the Ku Klux Klan,25 Arundius T. Jackson, owner of the Homestead Garage and Sidney E. Livingston, postmaster of Homestead and future mayor.26 At the cemetery, the pallbearers were flanked by two rows of about 48 members of Homestead's Klan No. 26 dressed in full regalia. The procession was led by Rev. Charles P. Jackson, Arundius' father and the rector of St. John's.
The funeral procession for Livingston at the Palms Cemetery27
A. R. Livingston purchased Elliott Prouty Livermore's 80 acre grove on Epmore Drive, (a neologism derived from E. P. Livermore's name) in 1926.28 He apparently sold his late brother's house to Livermore at the same time, perhaps as part of his purchase of the grove.
The house was then purchased by Edward Buckhout, of Tarrytown, N.Y. in early 1930 when Livermore and his wife moved back to South Acton, MA, where they were from. The purchase price was reported to be $20,000 and the house sat on a 5 acre parcel of land, mostly planted to avocado trees.29
The house was sold in late 2019 to a member of the Blanco family, which owns the Walton House. It will be restored and serve as housing for the family members of the those who are married at that well-known wedding venue.
_____________________________________________________________